Testing the Text Analysis API in Google Sheets
function

 

getAppKey

()

 

{


  

return

 

"YOUR_APP_KEY"

;




}





function

 

getAppID

()

 

{


  

return

 

"YOUR_APP_ID"

;




}






function

 

getApiUrl

(

endpoint

)

 

{


  

Logger

.

log

(

"https://api.aylien.com/api/v1/"

 

+

 

endpoint

);


  

return

 

"https://api.aylien.com/api/v1/"

 

+

 

endpoint

;




}





function

 

validateURL

(

input

)

 

{


  

return

 

/^

(

https

?

|ftp

)

:

\/\/(((([

a-z

]

|

\d

|-|

\.

|_|~|

[\u

00A0-

\u

D7FF

\u

F900-

\u

FDCF

\u

FDF0-

\u

FFEF

])

|

(

%

[\d

a-f

]{2})

|

[

!

\$

&'

\(\)\*\+

,;=

]

|:

)

*@

)?(((\d

|

[

1-9

]\d

|1

\d\d

|2

[

0-4

]\d

|25

[

0-5

])\.(\d

|

[

1-9

]\d

|1

\d\d

|2

[

0-4

]\d

|25

[

0-5

])\.(\d

|

[

1-9

]\d

|1

\d\d

|2

[

0-4

]\d

|25

[

0-5

])\.(\d

|

[

1-9

]\d

|1

\d\d

|2

[

0-4

]\d

|25

[

0-5

]))

|

((([

a-z

]

|

\d

|

[\u

00A0-

\u

D7FF

\u

F900-

\u

FDCF

\u

FDF0-

\u

FFEF

])

|

(([

a-z

]

|

\d

|

[\u

00A0-

\u

D7FF

\u

F900-

\u

FDCF

\u

FDF0-

\u

FFEF

])([

a-z

]

|

\d

|-|

\.

|_|~|

[\u

00A0-

\u

D7FF

\u

F900-

\u

FDCF

\u

FDF0-

\u

FFEF

])

*

([

a-z

]

|

\d

|

[\u

00A0-

\u

D7FF

\u

F900-

\u

FDCF

\u

FDF0-

\u

FFEF

])))\.)

+

(([

a-z

]

|

[\u

00A0-

\u

D7FF

\u

F900-

\u

FDCF

\u

FDF0-

\u

FFEF

])

|

(([

a-z

]

|

[\u

00A0-

\u

D7FF

\u

F900-

\u

FDCF

\u

FDF0-

\u

FFEF

])([

a-z

]

|

\d

|-|

\.

|_|~|

[\u

00A0-

\u

D7FF

\u

F900-

\u

FDCF

\u

FDF0-

\u

FFEF

])

*

([

a-z

]

|

[\u

00A0-

\u

D7FF

\u

F900-

\u

FDCF

\u

FDF0-

\u

FFEF

])))\.?)(

:

\d

*

)?)(\/((([

a-z

]

|

\d

|-|

\.

|_|~|

[\u

00A0-

\u

D7FF

\u

F900-

\u

FDCF

\u

FDF0-

\u

FFEF

])

|

(

%

[\d

a-f

]{2})

|

[

!

\$

&'

\(\)\*\+

,;=

]

|:|@

)

+

(\/(([

a-z

]

|

\d

|-|

\.

|_|~|

[\u

00A0-

\u

D7FF

\u

F900-

\u

FDCF

\u

FDF0-

\u

FFEF

])

|

(

%

[\d

a-f

]{2})

|

[

!

\$

&'

\(\)\*\+

,;=

]

|:|@

)

*

)

*

)?)?(\?((([

a-z

]

|

\d

|-|

\.

|_|~|

[\u

00A0-

\u

D7FF

\u

F900-

\u

FDCF

\u

FDF0-

\u

FFEF

])

|

(

%

[\d

a-f

]{2})

|

[

!

\$

&'

\(\)\*\+

,;=

]

|:|@

)

|

[\u

E000-

\u

F8FF

]

|

\/

|

\?)

*

)?(\#((([

a-z

]

|

\d

|-|

\.

|_|~|

[\u

00A0-

\u

D7FF

\u

F900-

\u

FDCF

\u

FDF0-

\u

FFEF

])

|

(

%

[\d

a-f

]{2})

|

[

!

\$

&'

\(\)\*\+

,;=

]

|:|@

)

|

\/

|

\?)

*

)?

$/i

.

test

(

input

);




}





function

 

detect_type

(

text

)

 

{


  

if

 

(

validateURL

(

text

)){


    

return

 

"url"

;


  

}

 

else

 

{


    

return

 

"text"

;


  

}




}





function

 

sleep

(

 

Duration

 

){


    

var

 

now

 

=

 

new

 

Date

().

getTime

();


    

while

(

new

 

Date

().

getTime

()

 

<

 

now

 

+

 

Duration

){

 

}




}





function

 

CallTextAPI

(

params

)

 

{


  

var

 

payload

 

=

 

{};


  

var

 

maxTries

 

=

 

3

;



  

if

 

(

!

params

[

"input"

]

 

||

 

params

[

"input"

].

trim

()

 

==

 

''

)


    

return

 

[];



  

params

[

"input"

]

 

=

 

params

[

"input"

].

trim

();


  

var

 

type

 

=

 

detect_type

(

params

[

"input"

]);



  

if

 

(

type

 

==

 

"url"

)


    

payload

[

"url"

]

 

=

 

params

[

"input"

]


  

else


    

payload

[

"text"

]

 

=

 

params

[

"input"

]



  

var

 

result

;


  

var

 

count

 

=

 

0

;


  

var

 

catch_count

 

=

 

0

;



  

while

(

true

)

 

{


    

var

 

api_url

 

=

 

getApiUrl

(

params

[

"endpoint"

]);


    

var

 

options

 

=

 

{


      

"method"

 

:

 

"post"

,


      

"headers"

:

 

{


        

"X-AYLIEN-TextAPI-Application-Key"

:

 

getAppKey

(),


        

"X-AYLIEN-TextAPI-Application-ID"

:

 

getAppID

()


      

},


      

"payload"

:

 

payload

,


      

"muteHttpExceptions"

:

 

true


    

};



    

result

 

=

 

UrlFetchApp

.

fetch

(

api_url

,

 

options

);


    

Logger

.

log

(

result

);



    

var

 

status_code

 

=

 

result

.

getResponseCode

();


    

Logger

.

log

(

status_code

);


    

if

 

(

status_code

 

!==

 

200

)

 

{


      

if

 

(

status_code

 

==

 

429

)

 

{


        

Utilities

.

sleep

(

5000

 

*

 

(

count

 

+

 

1

));


        

return

(

"Rate limit exceeded, please check rate limits at developer.aylien.com"

);


        

}

 

else

 

if

 

(

status_code

 

==

 

404

)

 

{


        

return

(

"404 - Not found"

);


        

}

 

else

 

if

 

(

status_code

 

==

 

403

)

 

{


        

return

(

"Authentication Rejected"

);


        

}


    

if

 

(

++

count

 

==

 

maxTries

)

 

{


      

throw

 

"An error occured in the Text Analysis API"

;


      

return

(

"Error"

);


      

}


    

}

 

else

 

{


      

break

;


    

}


  

}



  

var

 

response

 

=

 

JSON

.

parse

(

result

);


  

return

 

response

;




}





/**
 * Returns the analysis results from the Text API from a text or URL.
 */




function

 

TextAPIResults

(

input

,

 

endpoint

)

 

{


  

input

 

=

 

input

.

replace

(

'"'

,

 

''

);


  

Logger

.

log

(

input

);


  

Logger

.

log

(

endpoint

);


  

if

 

(

input

.

map

)

 

{


    

return

 

input

.

map

(

TextAPIResults

);


  

}

 

else

 

{


      

if

 

(

input

 

!==

 

""

)

 

{


        

var

 

response

 

=

 

CallTextAPI

({

input

:

 

input

,

 

endpoint

:

 

endpoint

});


        

Logger

.

log

(

response

);


        

var

 

results

 

=

 

[];


        

if

 

(

endpoint

 

==

 

'classify/iab-qag'

)

 

{


          

// classify iab


          

Logger

.

log

(

"found classify"

);


          

if

 

(

response

[

'categories'

]

 

!==

 

'undefined'

 

&&

 

Object

.

keys

(

response

[

'categories'

]).

length

 

>

 

0

)

 

{


            

results

.

push

(

response

[

'categories'

][

0

][

'label'

]);


            

results

.

push

(

response

[

'categories'

][

0

][

'confidence'

]);


            

}

 

else

 

{


            

results

.

push

(

'No categories found'

);


          

}


        

}

 

else

 

if

 

(

endpoint

 

==

 

'classify/iptc-subjectcode'

)

 

{


            

// classify iptc


            

Logger

.

log

(

"found classify"

);


            

if

 

(

response

[

'categories'

]

 

!==

 

'undefined'

 

&&

 

Object

.

keys

(

response

[

'categories'

]).

length

 

>

 

0

)

 

{


              

results

.

push

(

response

[

'categories'

][

0

][

'label'

]);


              

results

.

push

(

response

[

'categories'

][

0

][

'confidence'

]);


              

}

 

else

 

{


              

results

.

push

(

'No categories found'

);


          

}


        

}

 

else

 

if

 

(

endpoint

 

==

 

'sentiment'

)

 

{


            

// sentiment


            

results

.

push

(

response

[

'polarity'

]);


            

results

.

push

(

response

[

'polarity_confidence'

]);


        

}

 

else

 

if

 

(

endpoint

 

==

 

'extraction'

)

 

{


            

// extraction


            

results

.

push

(

response

[

'article'

]);


        

}

 

else

 

if

 

(

endpoint

 

==

 

'language'

)

 

{


            

// language


            

results

.

push

(

response

[

'lang'

]);


            

results

.

push

(

response

[

'confidence'

]);


        

}

 

else

 

if

 

(

endpoint

 

==

 

'summarize'

)

 

{


            

// summarize


            

results

.

push

(

response

[

'sentences'

][

0

]);


        

}

 

else

 

if

 

(

endpoint

 

==

 

'concepts'

)

 

{


            

// concepts


            

Logger

.

log

(

response

[

'concepts'

]);


            

if

 

(

response

[

'concepts'

]

 

!==

 

'undefined'

 

&&

 

Object

.

keys

(

response

[

'concepts'

]).

length

 

>

 

0

)

 

{


              

var

 

concepts

 

=

 

response

[

'concepts'

];


              

for

 

(

var

 

i

 

in

 

concepts

)

 

{


                

var

 

concept

 

=

 

i

.

replace

(

'http://dbpedia.org/resource/'

,

 

''

);


                

var

 

concept

 

=

 

concept

.

replace

(

'_'

,

 

' '

)


                

results

.

push

(

concept

);


                

}


             

}

 

else

 

{


                

results

.

push

(

'No concepts found'

);


                

}


            

}


            

else

 

if

 

(

endpoint

 

==

 

'entities'

)

 

{


            

// entities


            

if

 

(

response

[

'entities'

]

 

!==

 

'undefined'

 

&&

 

Object

.

keys

(

response

[

'entities'

]).

length

 

>

 

0

)

 

{


              

var

 

entities

 

=

 

response

[

'entities'

];


              

for

 

(

var

 

i

 

in

 

entities

)

 

{


               

if

 

(

i

 

!==

 

"text"

)

 

{


                

for

 

(

var

 

listed_entity

 

in

 

entities

[

i

])

 

{


                  

results

.

push

(

entities

[

i

][

listed_entity

]);


                

}


             

}

 

else

 

{


                

results

.

push

(

'No entities found'

);


                

}


              

}


            

}


           

}

else

 

{


              

// if the endpoint value is spelled wrong


              

results

.

push

(

"No endpoint found, please make sure the endpoint is listed at docs.aylien.com/textapi/endpoints"

);


        

};


      

Logger

.

log

(

"Results:"

);


      

Logger

.

log

(

results

);


      

sleep

(

 

1000

 

);


      

return

 

[

results

];


    

}

 

else

 

if

 

(

input

 

==

 

""

)

 

{


        

// if the input value is an empty cell


        

return

(

""

);


        

}


   

}




}



Sometimes you just need a quick and easy way of testing out an API and one way to do that is by leveraging Google Sheets. We've made it really easy to run sample queries against our API directly from a spreadsheet so that you can quickly evaluate and understand the type of results the Text Analysis API returns.
To get started you will need two things:
some sample text data you want to analyze, in a column on a Google Sheets spreadsheet
Text Analysis API credentials, (which you can get by signing up to the free plan here)
Once you have these two things, you can get started. It just takes three steps:
Step 1
First, in your spreadsheet, open up Tools > Script Editor.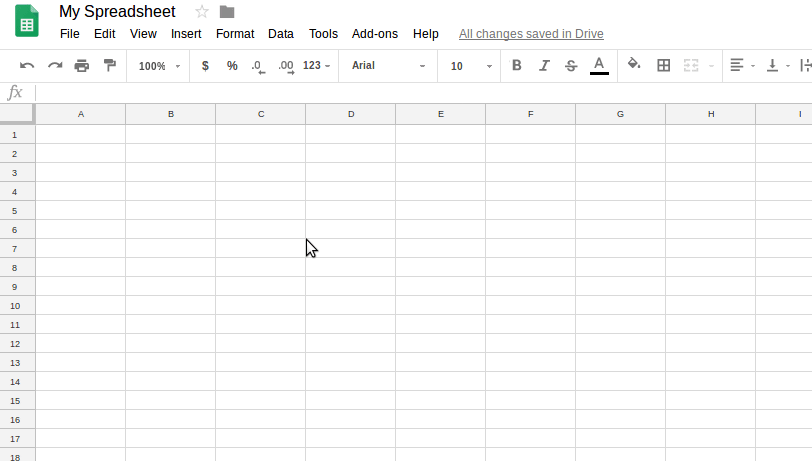 Step 2
Delete everything in the Code.gs tab and in its place paste the script on the right into the Script Editor. Now you can paste your credentials (your App Key and API ID) into the script (where it says "YOUR_APP_KEY" and "YOUR_APP_KEY" in the first lines), and hit save.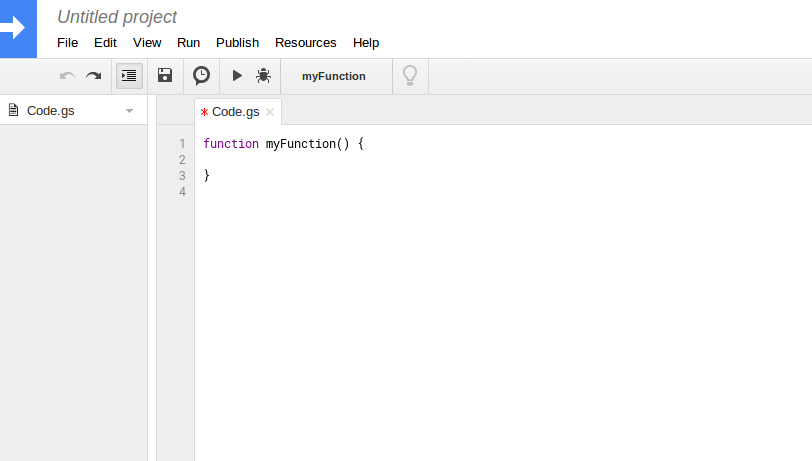 Step 3
Back in your spreadsheet, in an empty cell next to your sample data, copy this text in =TextAPIResults(A1, "sentiment") and hit Enter. Make sure that the quotation marks are formatted correcetly - if they change the colour of the endpoint name to green, you're good to go!
Now you can extend that cell to analyze as many cells as you want.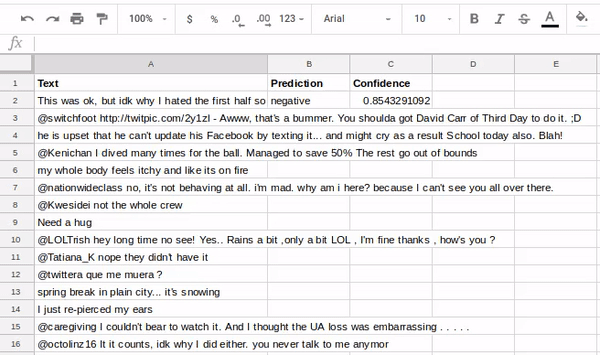 Try out all of the Text API's endpoints
You can currently use this script to test a number of the API's endpoints, which you can do by entering the endpoint's name in the place of sentiment in the previous example. Here are the endpoints you can try out:
Summarization (summarize)
Concept extraction (concepts)
Entity extraction (entities)
Classification (classify/iptc-subjectcode or classify/iab-qag, depending on the taxonomy you want to use)
Sentiment analysis (sentiment)
Language prediction (language)
Article extraction (extraction)
If you want to test out one of the Text API's endpoints but can't see on the list above, get in touch with us and we can add it for you.